Are you looking to buy or rent a property in Istanbul, Turkey? Whether you are a local resident or an international investor, finding the right real estate agent in Istanbul can make a significant difference in the outcome of your property search. Notte Global is a reputable real estate company that can help you find your dream home in this thriving city. In this article, we will provide you with all the information you need to know about real estate agents in Istanbul, and how Notte Global can assist you in your property search.
Why Istanbul is a Great Place to Invest in Real Estate
Istanbul is one of the most attractive destinations for property investment. It is a city that connects Europe and Asia, making it a cultural and commercial hub. With a population of over 15 million people, it is the most populous city in Turkey. Istanbul is also one of the fastest-growing cities globally, with a thriving economy and a rich history that attracts visitors from all over the world. The city has seen an influx of international investors, and the real estate market has been booming in recent years. Investing in real estate in Istanbul can be an excellent opportunity for those seeking a high return on investment.
If you are looking for Turkish Citizenship, please follow the link; https://notteglobal.com/citizenship-by-investment/turkey-citizenship-program/
What to Look for in a Real Estate Agent in Istanbul
Finding the right real estate agent in Istanbul can be a daunting task, especially if you are new to the city. Here are some essential factors to consider when selecting a real estate agent:
Experience and Expertise
Look for an agent with experience and expertise in the Istanbul real estate market. They should be familiar with the different neighborhoods, property types, and pricing trends.
Professionalism and Credibility
Choose an agent who is professional, transparent, and credible. They should be able to provide you with all the necessary information about the property, such as the legal status, ownership, and potential risks.
Communication and Language Skills
Make sure your agent has excellent communication and language skills, especially if you are an international investor. They should be able to speak your language fluently and communicate effectively.
Range of Services
Look for an agent who offers a wide range of services, such as property management, legal support, and financial advice. They should be able to assist you throughout the entire property search process.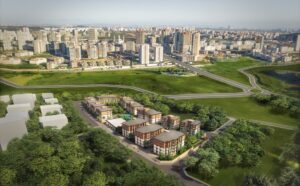 Notte Global: Your Reliable Partner in Istanbul Real Estate
Notte Global is a reputable real estate company that can help you find your dream home in Istanbul. They have been operating in the Istanbul real estate market for over 15 years and have built a strong reputation for their professionalism, transparency, and customer service. Here are some of the services they offer:
Property Search and Selection
Notte Global has a vast network of properties in Istanbul, ranging from apartments, villas, and commercial properties. They can help you find the property that suits your budget, preferences, and lifestyle.
Legal Support and Documentation
Notte Global provides legal support and documentation for all their clients, ensuring that the property you purchase or rent is legally sound and free from any disputes.
Financial Advice and Mortgage Assistance
Notte Global can provide you with financial advice and mortgage assistance, making the buying or renting process smoother and more convenient.
Property Management and After-Sales Services
Notte Global offers property management and after-sales services, such as maintenance, cleaning, and rental management. They can assist you in all aspects of property ownership, making it hassle-free and worry-free.
Notte Global's Customer Satisfaction Guarantee
Notte Global is committed to providing the best customer service in the Istanbul real estate market. They have a team of experienced and knowledgeable professionals who can guide you through every step of the property search process. Notte Global's customer satisfaction guarantee ensures that their clients are always satisfied with their services. They prioritize their clients' needs and preferences, ensuring that they find the perfect property that meets their requirements.